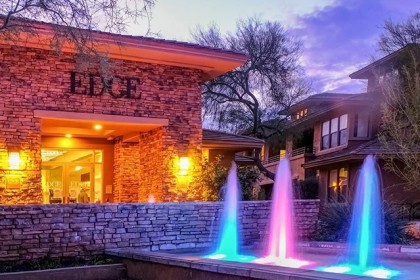 LED lighting is a great way to add dramatic flair to an outdoor living space. Whether for enhanced visibility and security or just to highlight the aesthetics of your backyard design, LED lights can add a lot of visual interest. By replacing old and often inefficient lighting options with LED, not only do you have more cost-effective and environmentally sustainable lights, but also the ability to work with color and color temperatures to make your space is lit just the way you want it.
By utilizing different hues and brightness levels, the design elements of your exterior spaces can be perfectly accented. At North Star Outdoor Lighting, we offer a number of different LED lighting options that are 100% recyclable and engineered sustainably without the dangerous chemicals and materials often found in outdated lighting fixtures. Whatever your design ideas for your outdoor areas, LED lighting is a great way to cut energy costs and add visual appeal and safety.
Color Temperature
The temperature of your lighting makes a huge difference in the feel and utility of your space. Particularly in the cooler months as many look to spend more time outdoors, lighting is an essential upgrade. LED lighting allows a lot of flexibility in the aesthetic of an outdoor area, from warm soothing white light to more vibrant cool light with bluish tones.
Warmer temperature lights are often used to create a cozy and intimate atmosphere, particularly in areas that already receive light from other sources. Outdoor eating spaces and firepits are often areas that would benefit from warm, low-key lighting, and make for great late night conversation areas and places to spend time with friends and family. Slightly warmer and more vivid lighting can be used for entryways and common areas where you need more visibility than softer lights, but still want a cozier ambiance to welcome and guide visitors.
Towards the cooler, brighter end of the spectrum, natural and cool white lighting temperatures are an easy way to highlight greenery and natural elements as well as provide a lot of illumination and visibility. Cooler lighting options are often used as up lighting to highlight trees and other garden elements and allow for more comfortable navigation of exterior spaces without being too bright and distracting.
Beyond setting the mood and visual appeal of an exterior space, LED colored lighting can also enhance visibility and add a layer of safety and security. By utilizing very bright, crisp white lighting, homeowners can better illuminate their outdoor spaces and are better equipped to monitor their exteriors. With these temperatures, guests can easily navigate outdoor areas and there is a greater ability to keep your spaces safe and secure.
By utilizing LED lighting, homeowners can play with brightness and temperature and layer different lighting strengths and hues for their needs. Whatever your design aesthetic, LED lighting can dramatically strengthen the appeal and feel of your exterior spaces.
Mood Lighting
With the strides made in lighting technology, old and outdated traditional lighting options can be replaced with LED lighting, and modern LED lighting in particular allows not just for adjustments in temperature but color and hue as well. Whatever the size of the space you are designing, LED lighting colors can create different moods and foster creative lighting ideas.
Colored LED lighting has become very popular in recent years, as homeowners have the ability to utilize lighting colors beyond whites to yellows, blues, oranges and even reds or violets. By not being constrained to traditional lighting options, LED lighting allows for a greater degree of customization and personalization for your outdoor design ideas. Even more so than temperature, different color options can really set the mood and atmosphere of outdoor spaces and evoke feelings of happiness, comfort and serenity.
Yellow and orange are good options for those looking to experiment with color without changing the feel of their outdoor spaces too drastically, and are great at setting a warm, invigorating ambience. A strong color like red can also lend a dramatic appeal to a space, and even though it is a bolder and more pronounced lighting option, it has also been shown to help sleep and not disrupt circadian rhythms like blue light often does. Purple and violet are also popular options that can lend a regal and opulent aesthetic, while not being too distracting and attention-grabbing.
Why choose us?
LED lights are an excellent way to cut electrical costs and leave less of an environmental footprint, but they also allow for a lot of creative lighting options. Warmer temperature colors can be used to highlight outdoor living spaces and foster an intimate and homey feel, and brighter, more striking lighting temperatures can enhance visibility and give homeowners a feeling of safety and security. Different colors and hues like yellow, red and violet can also set the mood and invoke different emotional responses in homeowners and visitors. LED lighting is an easy upgrade that goes a long way in making a space feel welcoming and comfortable.
At North Star Outdoor Lighting, we have decades of experience working with residential and commercial lighting, and whether upgrading existing less-efficient lighting or designing a completely new space, we ensure that our lighting options can be enjoyed for years to come. Our emphasis on LED lighting in particular helps consumers to reduce costs and their environmental footprint, while not detracting from the beauty of a well-lit and designed space.
Whatever your lighting needs, be sure to contact us today for a free estimate. Our team of professionals makes upgrading or installing new lighting features a breeze.