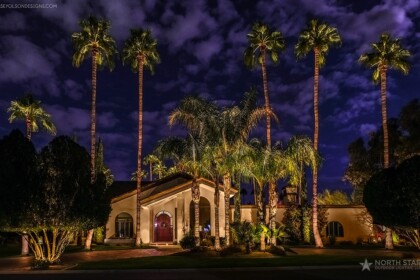 Good lighting is one of the most important parts of outdoor design, not only lending visual appeal to a space but also enhanced security and visibility. At North Star Outdoor Lighting, we understand the difference professional outdoor lighting services provide to your home or business, and for over two decades, we have provided the highest quality lighting components.
With the strides made in more affordable, longer lasting and more environmentally friendly lighting options, there has never been a better time for an upgrade. Here are a few ideas to consider if you are looking to refresh the feel of your outdoor spaces.
String Lighting
String lighting is a popular option, especially in backyard spaces where a lot of entertaining takes place. By providing a softer, cozier amount of light, string lights are great to run across outdoor spaces. String lights over dining areas provide a cozy ambiance, especially on warm summer nights, and add an air of romance for backyard dates or weddings. They also allow a lot of creativity when it comes to placement – they can be strung along pathways, on tree branches or over tables. If you are looking to make your outdoor entertaining areas feel intimate and inviting, string lighting is a great choice.
Playing Off Surfaces
Many outdoor surfaces benefit from being accented by light. Up lighting played off of concrete surfaces highlights the rich, textural details of the material and with warmer, softer lighting can foster a welcoming appeal. Trees and other green elements are also very commonly combined with light pieces – directional lighting helps to highlight a focal point and a tree or bush wrapped in string lights evokes a magical atmosphere.
Lights can also be played off of water features, and their reflective quality can make for dazzling displays. String lights over a pool or up lighting underneath a waterfall are great places to start when looking to combine lighting and water.
Colored LED
Colored LED is an easy way to refresh the look of an outdoor space, and homeowners can vary temperatures and hues to create the perfect aesthetic. Warmer, softer lighting temperatures are great for creating intimate atmospheres, and cooler, more vibrant temperatures can highlight focal points and enhance security. For homeowners seeking a pop of color or more dramatic lighting elements, LED lights in colors like red, orange or purple are a unique option. LED lighting saves you money and by utilizing variations in tone and hue, can really bring a space together.
Path Lighting
Implementing path and step lighting not only makes your backyard spaces easier and safer to navigate, but also gives guests a cozy and inviting atmosphere. Path lighting can be configured to be solar-powered, cutting down on wiring and saving in energy costs. String lights, lanterns and sconces are great at flanking walkways, and guiding guests safely around outdoor spaces while not detracting from the ambience of the design. In-ground lights allow for more subtle, recessed light to frame decks or driveways, and are both functional and long-lasting.
Layering Lights
Layering lighting is an easy way to play with the size and dimensions of an outdoor area, and varying direction and type of lighting can lend a unique aesthetic. By combining different types of lighting as well as different heights and angles, homeowners have the freedom to play up or tone down different surfaces and areas. From small directional lighting on tall tree branches, to string lighting over dining tables and lowkey in-ground lights under stairs, there are a lot of ways to vary lighting to create interesting effects.
Why choose us?
At North Star Outdoor Lighting, we have decades of experience working with residential and commercial lighting, and whether upgrading existing less-efficient lighting or designing a completely new space, we ensure that our lighting options can be enjoyed for years to come. Our emphasis on LED lighting in particular helps consumers to reduce costs and their environmental footprint, while not detracting from the beauty of a well-lit and designed space.
Whatever your lighting needs, be sure to contact us today for a free estimate. Our team of professionals makes upgrading or installing new lighting features a breeze.