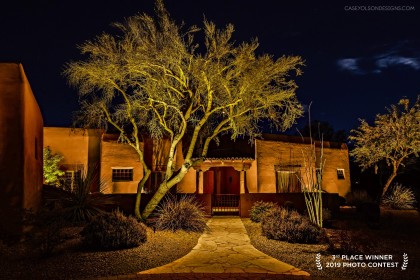 Why Hire an Outdoor Lighting Contractor
Do It Yourself (DIY) projects are typically labors of love. When it comes to home and design projects, achieving long-lasting and professional work is imperative to maintaining a well-kept and polished home. Unfortunately, many individuals try to take on work or home projects that are simply out of their own skillsets or purview.
At North Star Outdoor Lighting, we have the tools and knowledge to provide exceptional results. Based in Scottsdale and locally owned and operated by Todd Meyer, our company is composed of experienced, certified, licensed and courteous technicians that sustain care and attention to detail. After all, it's how we've built our reputation and continue building it as a leader in complete landscape lighting services for both residential and commercial needs.
In our extensive industry experience, we've seen all sorts of DIY projects go awry. In fact, several of the biggest landscape lighting missteps we've seen include:
Lacking Vision
Great and well-planned lighting design requires vision. We've seen plenty of individuals get hung up on lighting fixtures instead of the output of light those fixtures create. For example, it's easy to get sidetracked by the look of a light fixture and ignoring the output of the beam and spread. We've seen this play out with too many light fixtures clustered together throwing uneven beams and causing general oddity, both undesirable effects.
A professional can help process and plan exactly what to highlight visually in an outdoor space. A combination that plays into the natural aesthetics of your yard is key in approaching correctly, even lighting.
Not Sticking to Budget
On several projects we've been called into, we've found a homeowner stuck giving much care and their dollars to fixtures. This approach can lead to unnecessary expenses and blow budgets quickly. In our work, we are well-versed in finding quality fixtures that are designed to withstand harsh outdoor elements like rain, wind, sun and exposure.
Several of our favorite types of options include brass and copper over the seemingly popular composite and low-grade aluminum options. Additionally, when looking at internal components, it is critical that any internal component is sealed off from moisture or insects to ensure long-term success and to avoid lighting system failure. We can talk you through the specifics here and identify the best material to fit your budget.
Improper Wire Connections
The leading cause of failure in most outdoor lighting systems is improper wire connections. These bad connections are a weakness that can take down your entire outdoor lighting capability. Usually the culprit is moisture that enters an insulated wire and causes erosion or breaks down a connection that prevents electrical currents from moving through. In these cases, even taping or trying quick connection snaps won't help. Our professionals use heat shrink, water tight connectors to prevent improper wire connections and resulting lighting issues.
Fixture Locations
As they say in real estate, location is everything. In lighting, it's more like placement. Thoughtful, well-planned out landscape lighting designs take into account the intricacies of your backyard environment. For example, what areas need to be avoided like lawns, pathways, decks or large flower beds. As mentioned above, water can damage your lighting equipment. Good planning and understanding how to achieve the best lighting leads to a timeless, useful space and this means well-considered placement for fixtures and their correct application.
Glare
DIYers often forget about the light sources themselves and instead get caught up in their goals for lighting. This results in a big issue: too much glare. Light fixtures and their installation should deliver optimal lighting from natural focal points. Consider the curb of your house when looking at your property. In the backyard, consider the gathering points. You want to avoid the glare that can occur when you can see a direct bulb. Illumination should be gentle, soft and ambient.
Bombardment
Last, but not least, one of the most egregious issues we see DIYers do is try and just do too much. Outdoor lighting is an art that includes mixing light direction and strength for various purposes. The outdoor dining space requires soft ambient lighting, the pathways require directional lighting, tall trees need verticality, low shrubs and other items need a blend of strength and diffused light.
Bringing in the Professionals
At North Star, we encourage you to skip the DIY fiasco and come straight to our professional team. By hiring an expert outdoor lighting contractor, you can be certain to receive satisfaction.
We provide fast, reliable and honest services and backup our work with our unparalleled guarantee. After years of designing, installing and maintaining good lighting, we know the best ways to highlight your property's features. When you hire a professional, you can rest assured that:
Receive a truly professional experience
Are informed each step of the process from initial meeting to installation and completion
Have only the highest-quality fixtures and lighting components
Are respected and prioritized
Empowered and involved
Have your backyard lighting dreams brought to fruition
Future maintenance and repair options understood
Personal approach to your project
Our Services
Our team is proud to boast specialized skills and additional professional qualifications that enable North Star to offer a wide variety of outdoor lighting services:
Lighting Design
With over 25 years in business, we know just what it takes to strike the balance for the best lighting. Together we sit down, discuss your space and understand your vision. Then we get to work figuring out how to bring your vision to life. From understanding your needs, desires, project goals and any financial budgets in play, our dedicated team creates the best lighting for your specific citation.
Lighting Installation
As a full-service lighting partner, after we finalize a design, our team gets to work. In installation mode, you can expect prompt and timely installation by our bonded and insured professional who can help you sidestep the many errors listed above by those that go it alone.
Get in touch today to discuss your needs or inquire about a free estimate for your next project.