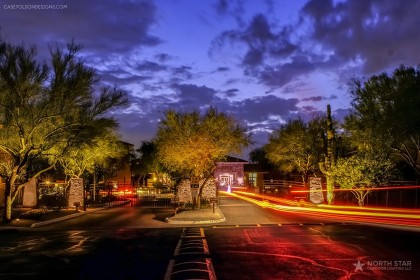 From restaurants and hotels to shopping centers and office buildings, businesses in numerous different industries are constantly seeking ways to make their commercial properties safe, inviting, and aesthetically appealing. At the same time, businesses must protect their bottom lines and ensure that any improvements made on their properties will yield a strong return on investment over time. One upgrade that can accomplish all of these goals and more is installing quality outdoor lighting in strategic spots throughout the property.
At North Star, we routinely design and install premium outdoor lighting for a variety of commercial properties across the greater Phoenix area. If there are areas of your property that are in need of lighting—or if your current light fixtures have grown dim or use older, inefficient bulbs—consider the following five reasons to install new outdoor lighting:
#1: Improve safety and security
As a business, you are responsible for taking steps to create an environment that is reasonably safe for your customers, employees, and visitors. While not every accident can be prevented, ensuring that darker areas of your property are adequately lit is a powerful way to improve safety and security—thereby reducing your risk of liability and enhancing satisfaction for all who visit your business. For example, installing new lighting along walkways, exterior staircases, and in courtyards can help prevent trip-and-fall incidents, while well-lit parking lots and entrances can deter thieves, vandals, and other trespassers. In addition, proper lighting can help your security cameras work more effectively by making the images that they capture easier to see.
#2: Increase accessibility
Making it easy for customers to find and access your business is a simple way to increase profitability—and the right lighting can help. From illuminating signs to ensuring that customers can clearly see entrances (and feel safe and secure approaching them), proper outdoor lighting is an effective way to draw customers into your business.
#3: Boost curb appeal
As one of the first things that prospective customers and passersby see when they approach your business, the exterior of your commercial property is an important reflection of your brand. By strategically placing lighting in key areas of your property—particularly those that are visible from the road, such as signs at the entrance—you can enhance curb appeal and give your business a well-maintained, inviting appearance.
#4: Enhance ambience
From creating a warm glow to illuminating beautiful landscape and architectural features, such as sculptures, fountains, and trees or other plants, the right lighting can enhance your commercial property's ambience. At North Star, we offer a wide variety of LED lighting that can help you create whichever vibe you have in mind. For example, bistro lighting can be used to give any patio a sense of enchantment and romance, color-changing lights can create a contemporary aesthetic, and underwater lighting can give pools and water features an alluring glow as the sun sets. These are just a few of the many lighting options available to help you set your desired ambience—and in turn, contribute to a more positive experience for customers, employees, and visitors.
#5: Reduce costs
If the existing lighting on your property uses older, inefficient bulbs, such as halogen, fluorescent, or incandescent, replacing them with LED lighting can yield significant cost savings over time. Energy-efficient LEDs use approximately 80-90 percent less electricity than traditional types of lightbulbs, thereby minimizing your monthly utility bills. In addition, LED bulbs have much longer lifespans, typically lasting up to 50,000 hours or approximately five years—an estimated 50 times longer than their incandescent counterparts, 25 times longer than halogen, and 10 times longer than compact fluorescent lightbulbs (CFLs). This will reduce your maintenance burden, as well as the costs associated with having to buy new lightbulbs. LED lighting offers several other benefits, including better light quality, a more modern appearance, and a less harmful impact on the environment.
At North Star, our designers are certified in the design and installation of FX Luminaire products, which come with a 10-year warranty and are considered some of the best LED landscape lighting on the market today. We also offer options from other leading brands, including Brilliance LED and Alliance Outdoor Lighting.
While installing new outdoor lighting may not be the first thing that comes to mind when you think of making upgrades to your commercial property, the right lighting can have a transformative impact that enhances your business while delivering a strong return on investment. With over 25 years of experience, North Star has worked with businesses in numerous different industries to design and install customized lighting solutions that will improve safety and security while boosting the curb appeal and ambience of any outdoor space. Contact us today to request a free estimate!
If you feel lackluster about your property's current lighting arrangement, get in touch with our team today by calling (480) 248-0194. We can replace and overhaul existing systems and would love to be your full-service lighting partner.
Our professional team of designers, installers, and lighting maintenance managers will create a picture-perfect system tailored to your property. Let us transform your space into a soothing, secure environment that you are happy to call home!
Get in touch today to discuss your needs or inquire about a free estimate for your next project.